Plain, Honest Men: The Making of the American Constitution (Compact Disc)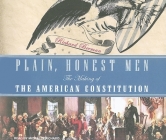 Description
---
The Constitutional Convention affected nothing less than a revolution in the nature of the American government. Led by James Madison, a small cohort of delegates devised a plan that would radically alter the balance of power between state and national governments, and then sprung that idea on a largely unsuspecting convention. The success of this bold and brilliant strategy was, however, far from assured, and the ultimate outcome of the delegates' labors-the creation of a frame of government that would enable the fragile American union to flourish-turned out to be very different from that which Madison had originally envisioned. In fact, there was very little agreement among the framers about the nature of the government they had just created. Audiences will come to appreciate the challenges that the Founding Fathers faced in creating a form of government that, while imperfect in many respects, nevertheless approaches, in the words of Benjamin Franklin, "so near to perfection as it does.
About the Author
---
Professor of history Richard Beeman, a faculty member at the University of Pennsylvania for thirty-six years, is the author of six books and several dozen articles on aspects of America's political and constitutional history, including "The Varieties of Political Experience in Eighteenth Century America."

Michael Prichard is a professional narrator and stage and film actor who has played several thousand characters during his career. An Audie Award winner, he has recorded well over five hundred books and has earned several "AudioFile" Earphones Awards. Michael was also named a Top Ten Golden Voice by "SmartMoney" magazine.
Praise For…
---
"[A] masterful account. Unlikely to be surpassed." ---Publishers Weekly Starred Review