Cleveland Then and Now® (Hardcover)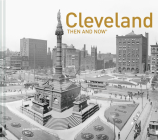 $22.95
Email or call for price.
Description
---
Cleveland Then and Now matches archive images with contemporary views of the same scenes to reveal the past and present of this fascinating city. Cleveland, Ohio, was founded in 1796. A prime location on one of America's great inland seas, Lake Erie, and good land transportation links to the rest of the United States made the city one of America's prime industrial metropolises by the early 1900s. Steel mills, factories, railroads, noise, and smoke dominated the landscape. Substantial civic buildings, grand mansions, and parks testified to Cleveland's wealth, while pollution, poverty, and disorder testified to the consequences of growth. Over a century later, its evolving identity has roots in medicine, banking, law, higher education, sports, and even rock and roll. Tradition amid change is the story of Cleveland, then and now. Sites include: Public Square, Terminal Tower, Soldiers and Sailors Monument, First Presbyterian Church, Cleveland Public Library, Federal Courthouse, Old Stone Church, Detroit-Superior Bridge, The Flats, Central Viaduct, Union Depot, St. John Cathedral, Euclid and East Ninth, Erie Street Cemetery, Euclid at Playhouse Square, Millionaires' Row, Clark Avenue Viaduct, St. Clair Avenue, Willson Avenue Temple, Gordon Park, Wade Park, Adelbert Hall, Cleveland Heights, Hartness Brown House, Little Italy, Lakewood and Bedford.
About the Author
---
Laura DeMarco is an arts and culture reporter for the Plain Dealer newspaper in Cleveland. She specializes in local history and lost landmarks, an interest that began with teenage adventures through abandoned buildings and Cleveland's industrial wastelands. She covers historical preservation, cultural institutions, immigrant groups, neighborhoods and the forgotten stories of Cleveland's most interesting characters. Her multi-media "Lost Cleveland" features are some of the most popular on Cleveland.com. She lectures at Cleveland schools, colleges and historical societies on these topics and more. A third-generation Clevelander, she grew up listening to her grandmother's and parents' stories of Euclid Beach Park, Municipal Stadium and downtown department stores and loves to share these with new generations.